HISTORY
Refugi Ventosa i Calvell 2220M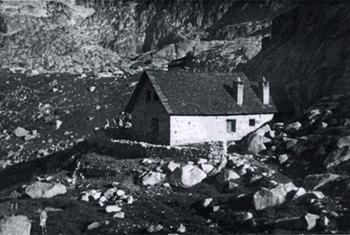 The history of the Refuge Ventosa comes from long ago. In 1942, the person who occupied the mountain huts of the Estany Llong and J.M. Blanc built the first building.
For someone who has money and likes the mountain, owning a house in a place like this should have been a kind of whim… Maybe a dream… A dream that came true for a Catalan politician called Joan Ventosa i Calvell. In those days this mountain hut was known as the Estany Negre (Black Lake), but from 1954 it changed.
Joan Ventosa i Calvell wanted to celebrate his 50th anniversary as a member of the Centro Excursionista de Catalunya handing over that building to build a mountain hut. The Centre Excursionista de Catalunya gave the building the name of Ventosa to thank him for that gesture of selflessness.
The old hut witnessed the first climbs to the mountains of the area and was also an excellent shelter for the shepherds who traditionally pastured the few granite-flanked prairies with their sheep and cows.
The people from Boí and Erill la Vall were responsible for the shelter and kept the keys of the hut if somebody wanted to use it.
A step towards modernity
The old hut was deteriorating as years went by and the access to it became dangerous. In 1976, the Centre Excursionista de Catalunya decided to commemorate their Centenary building a new hut that they called J. Ventosa i Calvell. That year the designing plans were done and on July 21st the contract to demolish the old hut –it took place between August and September- was signed.
Between 1977, 1978 and 1979 the building and adaptation of the track –just accessible with a mule- was done. It was a huge task to accomplish and a big number of volunteers collaborated. Finally, on November the 3rd 1979 the new refuge J. Ventosa i Calvell was inaugurated for use and enjoyment of the mountaineers.
Times of change
Since the inauguration of the 79 the refuge was updated year after year but the changes were always interior, aesthetically the Ventosa seen from outside remained the same.
Finally, in 2017 the Center Excursionista de Catalunya together with the guards decided to take a step forward to improve the comfort of users and guards of the refuge by providing hot showers and more services, in addition to locating the emergency shelter on the facade S freeing it from the accumulations of snow.
All these changes required the installation of an annex module, the materials used and the construction system are fully adapted to technological advances and are an example of sustainability.
The old Ventosa has not lost his personality, remains the same as always and now shares space with a module that is a true reflection of the times.